AVXT vs. HDBaseT FAQ
True 4K60 4:4:4 requires up to 18Gbps of link bandwidth. HDBaseT will fully support this, operating at 18Gbps. How can AVXT achieve the same performance?
AVXT Link is based on standard 10G Ethernet signaling. AVXT uses an ultra-lightweight, 100% artifact free compression to keep any format that exceeds 9Gbps within the 10G bandwidth limit. By doing this, AVXT provides guaranteed 100m reach performance, even over unshielded twisted pair (UTP) cables. At 18Gbps, HDBaseT reach performance is severely limited and it is mandatory to use more costly shielded cables to get better than 50m reach.

HDBaseT has the advantage of a fully integrated copper PHY. Isn't this a big advantage over AVXT?
No! The HDBaseT PHY is completely proprietary and not based on the IEEE 10G Ethernet standard. It does not have the advantages a true compliant 10G PHY includes, such as noise immunity and crosstalk cancellation. This really limits the reach performance of HDBaseT and mandates the use of more costly shielded twisted pair (STP) category cabling, such as Cat-7 and even Cat-8.

What is the reach advantage over category cable using AVXT vs. HDBaseT?
AVXT uses a fully IEEE compliant 10G Ethernet copper PHY which guarantees 100m reach performance over Cat-6a unshielded twisted pair (UTP) cables. HDBaseT can only support uncompressed 4K60 4:4:4 transmission at 70m or less, performing poorly with the presence of electrical noise or transient interference.

AVXT is similar to BlueRiver®, with the key difference that AVXT does not support networking capability. How can I upgrade AVXT firmware without network connectivity?
Upgrades can be done via the integrated UART interface.

Will AVXT have the same issues as HDBaseT with passing HDCP 2.2 and CTS certification, plus incompatibility with some consumer display products?
No! The AVXT chip is paired with common HDMI port switch devices which are fully CTS compliant, with conformance to specifications at the physical and protocol layer guaranteed. HDMI chip vendors have road tested their devices with a wide range of consumer products on the market.
Do the additional components required by the AVXT solution mean that the board size needs to be physically large?
No. With just a handful of major components, it is possible to make boards as small as a credit card.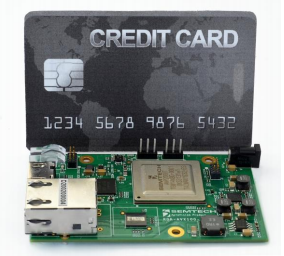 AVXT Extender Credit Card Size Actual Implementation

HDBaseT chips have a fully integrated 10G PHY and HDMI front end function. What are the minimum number of devices required to implement a simple AV extender using AVXT?
The major components required by the AVXT chip are an external 10G PHY and HDMI port switch. The following block diagrams show the core components required to implement an AVXT100-based transmitter and receiver.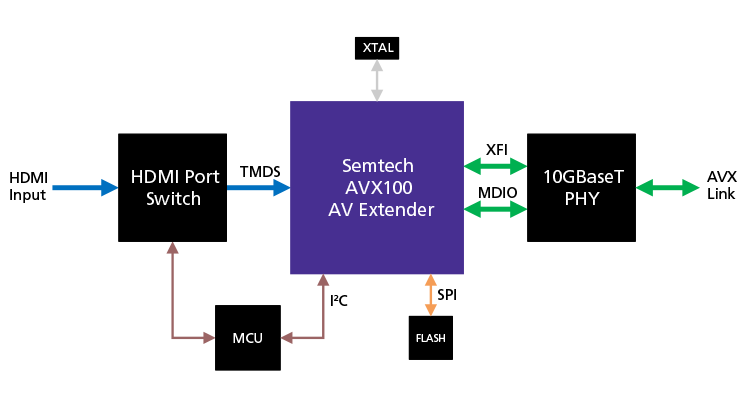 AVX100-based Transmitter (Copper AVXT Link)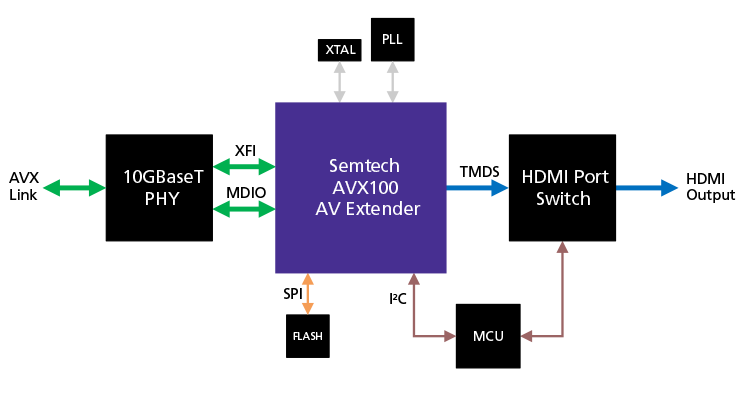 AVX100-based Receiver (Copper AVXT Link)
HDBaseT also support fiber connectivity, what about AVXT?
HDBaseT requires an additional device to convert the HDBaseT electrical signals to fiber, which is costly and power hungry. Using the AVX200T, direct connection to standard 10G SFP+ modules is possible, greatly reducing the cost, power and footprint of fiber-based AV extender solutions. The following block diagrams illustrate a simple fiber transmitter and receiver solution.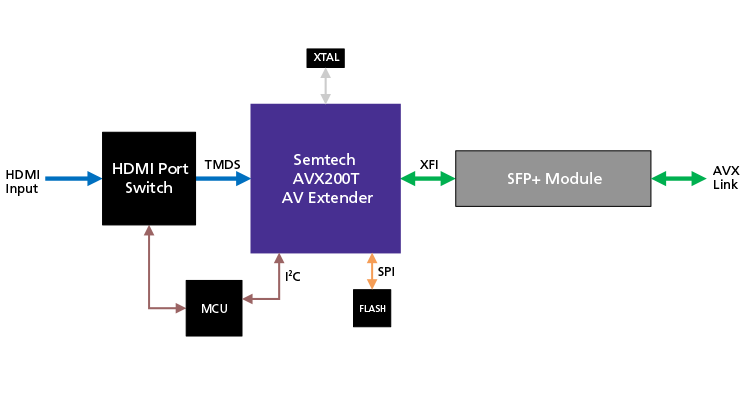 AVX200T-based Transmitter (Fiber AVXT Link)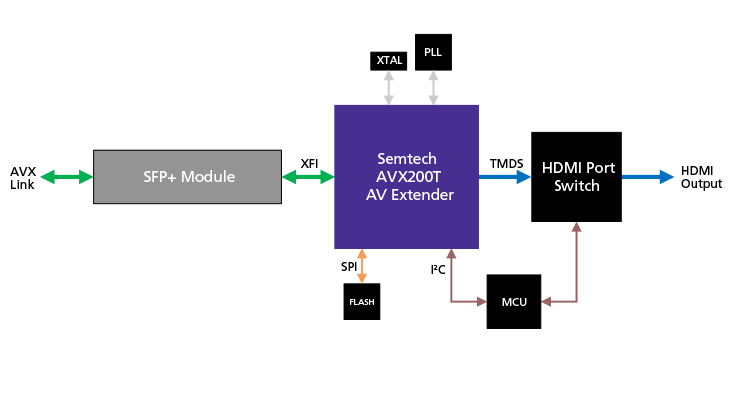 AVX200T-based Receiver (Fiber AVXT Link)
HDBaseT chipsets just provide AV extension. If the output resolution of the receiver needs to be fixed to the connected display resolution, a scaler would be required. Is this the case for AVXT too?
No, the AVX200T integrates a broadcast quality scaler which can be used to convert the image format at the transmit or receive end. Using an AVX100-based transmitter, paired with an AVX200T-based receiver, the output resolution can be fixed to the connected display resolution, regardless of the source format. The scaler can also be used to crop and scale images for video wall applications, saving the cost of dedicated video wall processors.
Extending HDMI signals in both directions, for example, between two rooms, requires two sets of HDBaseT extenders. As 10G Ethernet is full duplex (10G in both directions simultaneously), is it possible to reduce this cost using an AVXT-based solution?
Absolutely! The AVX200T is the first truly bidirectional HDMI transceiver solution, allowing simultaneous receive and transmit of HDMI signals, up to 4K60 4:4:4, in both directions over a single copper category cable or fiber pair. The AVX200T enables a new class of products which can dramatically reduce both product and system costs.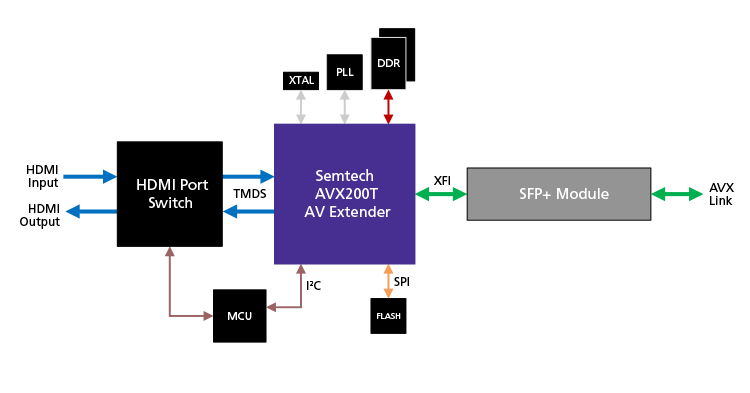 AVX200T-based Transceiver with AV Processing (Fiber AVXT Link)